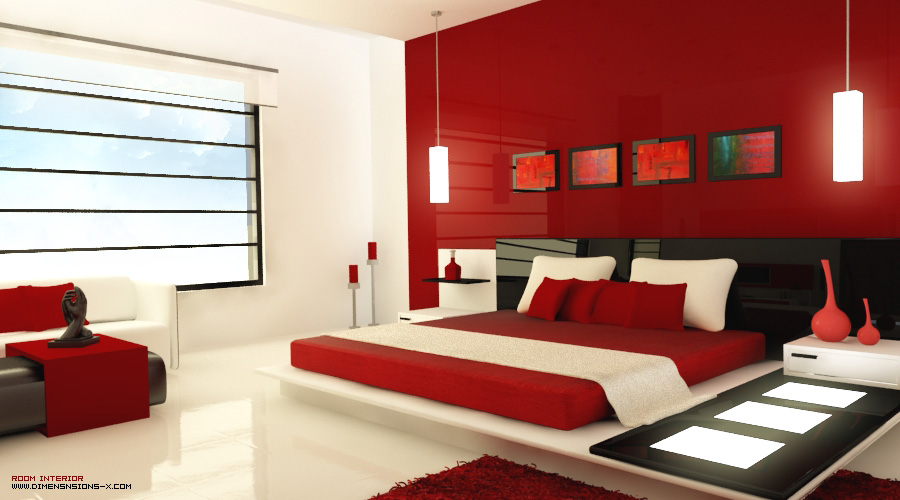 Creating a contemporary bedroom can feel daunting; there are so many different styles and designs to think about. Below is a breakdown of the key features of modern contemporary design.
image source: http://www.home-designing.com/2011/09/red-bedrooms
Contemporary design has been popular since the 1950's; this style was born as a reaction against the austerity measures of the war years. Characterised by bright colours, organic forms and mixing metal and wood together, this style has continued to evolve into the present day.
Now contemporary style is about creating a simple, sophisticated, subtle and textured look, where clean lines are paramount to the overall aesthetics. Contemporary rooms celebrate space rather than accessories and ornaments, to create a fresh and sleek look.
• Go Wild - Create a Multi-Functional Room Contemporary is about making the space suit your needs perfectly and not the other way round. Don't be afraid to create another space inside your bedroom such as a study if it suits your needs.
• Use Simple Lines Clean lines are vital in creating a contemporary bedroom. You can create these through the architecture of your bedroom, choosing bold colour blocks, geometric wall art, sculptures and furniture.
• Add a Stylish Headboard A stylish headboard will go a long way to creating a contemporary feel in your bedroom. You can pick either an intricately designed metal headboard or a more simply designed wooden one, either one will add texture and a contemporary feel to your bedroom.
• Natural Light Is Key Contemporary style is about creating a spacious feeling in your rooms. One of the oldest and most fail safe ways to do this is letting in natural light. If you're feeling daring and your room isn't over looked you could get rid of them completely to make your room feel truly contemporary.
• Use Eye Catching Patterns If you've gone for neutral colours throughout your bedroom, adding an eye-catching design, either by choosing striking wallpaper for one wall, bedding, curtains or even a throw, will add texture and vibrant feel to your bedroom.
• Try A Statement Piece Contemporary isn't just about neutral, it's about making a statement. You can use a stand out pieces of furniture such a quirky mirror, a beautifully shaped chair or a leather bedstead to add character to your bedroom.
• Use Warm Wood Contemporary has always mixed metal with wood, the old materials with new ones to create an individual look. Adding wood to your bedroom décor will create a warm and textured look. The best woods to use are oak, pine or if you're feeling really daring rich walnut.
• Try A Splash Of Colour Using a block bold colours work just as effectively as a statement piece of furniture. You could even put the two together and buy bedroom furniture that that uses a brave bold colour such as red on its front panels.
• Tone It Down Or could just as easily keep the colours toned down using black, whites and natural colours. If you feel your statement black wall is making your bedroom feel closed why not try a pale or white floor. You can create a spacious contemporary feel using a toned down colour palette.
• Keep It Simple Remember if you choose to keep it neutral, use statement furniture or a splash of bold colour, and always keep it simple. The lines should be clean and the room functional.
I hope you find these tips helpful in creating your dream contemporary bedroom.
About the guest author: Nicola is an interior design enthusiast and writes on behalf of Wedo Beds, a brand new online bed shop. For more information about contemporary bedroom furniture visit Wedo Beds website.