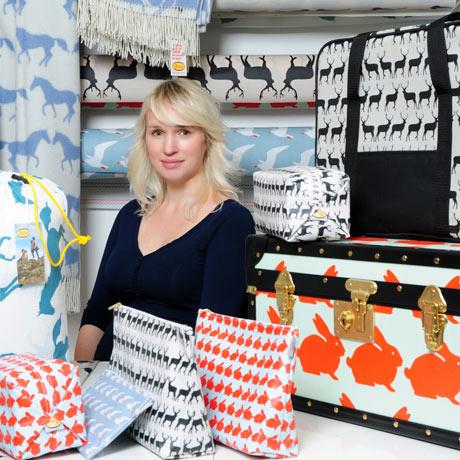 With the aim of encouraging people "to bring a touch of the outdoors inside and a touch of the indoors outside," Anorak make unusually gorgeous and graphic home and outdoor products. Inspired by childhood memories of family camping 'adventures,' textiles designer Laurie Robertson launched the brand in January 2008 after she graduated from the RCA.
What's the most important thing to know about you?
I ask a lot of questions.
Describe a really good day and a really bad day in the life of Laurie Robertson.
A good day is when everything seems to work and we get good feedback from our customers. We like to make people happy. A bad day is when we have problems with production - they always seem to take a lot of time to solve.
What inspires your ideas?
I love things that are functional, compact and often by chance 70s. Everything and anything can inspire me, at the moment I am loving 50s tupperware, but the outdoors is always my main inspiration for Anorak.
Describe the process you go though to turn your ideas into products.
I start off with a theme and a product I want to create, then I design the prints based around the theme - always inspired by the outdoors in some way. There is an Anorak style and signature that goes into every design which is very hard to pinpoint but I always know when a design is 'Anoraky' or not.
What advice would you give to an aspiring textiles designer?
Stay focused and build a good team around you. Make sure you are driven to achieve your goals and you have to believe in what you're doing.
Desert island design; which three items could you not live without?
To be honest, at the moment I couldn't live without my car, my iPhone, my computer and my waterproof Barbour jacket for coping with this rainy weather we're having.
What are you most proud of?
I'm most proud of my son Bert (14 mths old) and Anorak, for the team we've built around it.
What's next for you?
We're going global with lots of new international customers. Plus, there are new prints and products being added to our home and gift range.
And, finally, what's your favourite colour?!
Turquoise