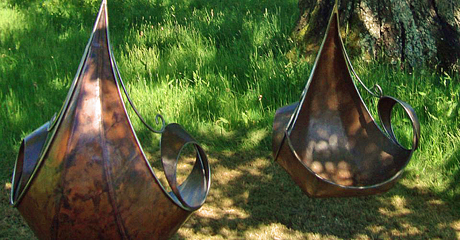 I first came across Myburgh Designs at the Chelsea Flower Show a couple of years ago.  Their beautiful hand-made copper swing seats are individually hand crafted and provide a beautiful solution for comfort and relaxation.
My favourite of all the pieces is the Lily swing (above) which is elegant, sculptural and extremely inviting.  The seats work well as focal points, the purpose of which adds interest and lures you out into the garden, but they can also be used as a hideaway space, somewhere to read a book or enjoy some peaceful relaxation.
The Jasmin seat is beautiful too.  I love the intricate and interesting metalwork frame which supports the wicker basket seat.
Myburgh designs was set up by South African designer, Stephen Myburgh, who is passionate about creating beautiful pieces that are both functional and sympathetic to the environment.  In 1997, when he arrived in London, Stephen started to explore metalwork on a large scale and it was following this exploration that he launched the Mood Swing collection.
Each seat is designed for relaxation and peaceful contemplation but I'm sure the children would love one too.
Personally I prefer the more open designs because I want to feel connected to the surrounding space, but I can see that a hideaway would be really appealing if you wanted to escape.
As well as the Mood Swing collection, Myburgh also design and make bespoke railings, gates, water features and garden wagons as well as other decorative items for the garden such as mirrors, copper poppies and bird feeders.
Details of the full range can be found on their website.
(Photos: Myburgh Designs)