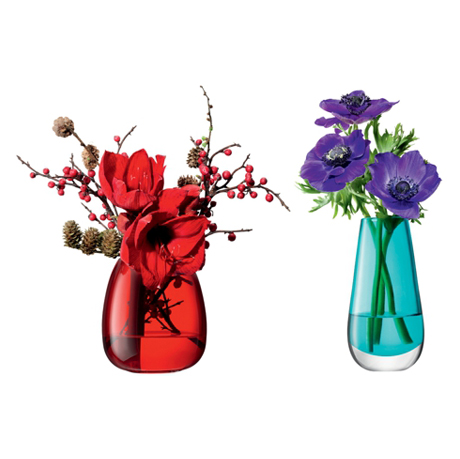 This week, I'm delighted to feature a new vase collection from LSA International called Flower Colour.
From the range, I particularly love the Bud Vase design which comes in nine colours, ranging from cobalt and mocha to peacock and amber.
They are perfect for displaying just a few blooms. Here are a few images below...
There are also nine other vase styles in this new collection.
Immediately below in red is the Table Posy Vase, with the Single Bloom Vase in violet.
Here's the Country Bouquet Vase in peacock below, together with the Flared Bouquet Vase in cobalt.
And also the Cylinder Bouquet Vase in black, with the Long Stem Vase in white.
The other three designs are Classic Bouquet Vase, Pedestal Bouquet Vase and Tied Bouquet Vase.
Being a huge fan of colour, I absolutely love this new collection and am so impressed by the range of tones, sizes and shapes.  There really is a style to suit every taste.
And as well as being perfect for displaying flowers in your own home, the vases would also make fabulous Christmas presents for flower-loving friends and relatives.
If you'd like to keep up-to-date with news about LSA International, they're on Twitter and Facebook.
(Images : LSA International)