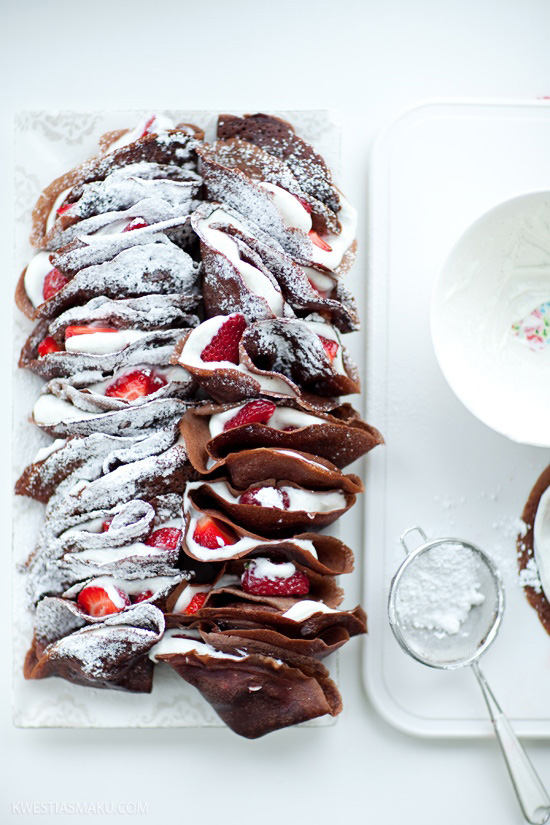 One recipe that always guarantees me a sous chef or two, in the form of my children, is pancakes. From the whisking and the flipping to the filling and the eating; they fully embrace the whole shebang.
Pancakes would make a regular appearance at the dinner table during my childhood too. My mum would make the most lovely savoury pancakes; filled with vegetables and smoothered in a comforting cheese sauce or filled with juicy pink prawns and a rose marie sauce. Then there was that unbeatable sweet combo of sugar and lemon juice for pudding. Total comfort food made from a handful of simple store-cupboard ingredients. Pancakes are the original fast-food and as cheap as chips, but their real beauty lies in their ability to take on so many different guises.
These chocolate pancakes always go down a treat with children and adults alike. Dressed accordingly they could hold their own at a dinner party; fill and decorate with bananas, ice cream and sprinkles and they're a top trump of a pudding to pull out of the bag when the kids have friends over for tea.
Chocolate Pancakes
100g plain flour
25g cocoa powder
¼  tsp fine sea salt
1 tbsp caster sugar
2 medium eggs, lightly beaten
1 tbsp melted butter, plus a few knobs for cooking
300ml whole milk
1 tsp vanilla extract
Sift the flour, cocoa powder and salt into a bowl and stir in the sugar. Make a well in the centre and tip in the beaten eggs, melted butter, milk and vanilla extract. Whisk to combine the ingredients and form a smooth batter, but try not to overwork the mixture. Leave to stand or chill for at least 30 mins.
Place a non-stick frying pan over a medium heat and add a knob of butter. When melted, tilt the pan so that the butter coats the base. Add a small ladleful of batter and swirl to evenly coat the base of the pan in a thin layer. Cook for about 1½ mins until the batter is set and golden brown underneath. Flip over to cook the other side for a minute. Transfer to a warm plate and wrap in a tea towel to keep warm. Repeat with the rest of the batter, stacking the pancakes interleaved with greaseproof paper in the tea towel as they are cooked.
Then get creative with your fillings. Berries or a berry compote paired with mascarpone or whipped cream are delicious or go all out for chocolate heaven and fill with nutella, chopped banana and crushed nuts and serve with vanilla ice cream.
Image via Kwestia Smaku