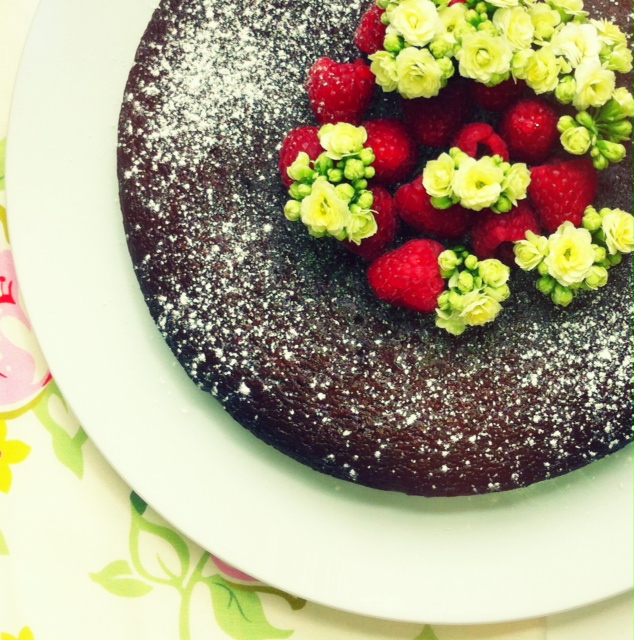 So it seems that summer has finally arrived: well it certainly seems like it at the moment. Living as I do by the sea, I am now expecting a few phone calls, emails and facebook messages from our non-coastal friends who will want to come and visit. They never seem quite so keen in the winter when the winds howl and the rain slashes down horizontal, but come the summer they can't wait to get down for a piece of the action. I don't mind a bit: I love having people to stay. It's what the summer is all about isn't it? Good times with friends and family.
For me, having people down for the weekend means planning some lovely meals to serve our guests or at very least a homemade cake or two. But when the sun is out, I'm not so keen on spending too much time in the kitchen, so I often turn to this recipe that I have made more times than I care to remember. The recipe originates from Nigella Lawon's store-cupboard chocolate-orange cake. The orange part of the original recipe comes from, not actual oranges, but the best part of a jar of marmalade. In this version, I've replaced the marmalade with raspberry jam. Cherry jam and apricot jam work well too as does ginger preserve.
Whatever flavour you favour, the cake itself is always a winner. It is easy to make: all done in one saucepan in the matter of minutes. It's can be served as it is with a cup of tea or on a pretty china plate with a dollop of cream and some raspberries on the side as a rather decadent pudding. It's great for transporting around too as it's not so needy and heat-sensitive as some cakes. And, if I haven't quite sold it to you already; it freezes like a dream. Go on give it a go and let me know how you get on.
Chocolate-Raspberry Cake
125g unsalted butter
100g dark chocolate, broken into pieces
300g good, raspberry jam
150g caster sugar
pinch of salt
2 large eggs, beaten
150g self-raising flour
20cm Springform tin, buttered and floured
Preheat the oven to 180C / GM 4
Put the butter in a heavy-bottomed saucepan and put over a low heat to melt. When it's nearly completely melted, stir in the chocolate. Leave for a moment to begin softening, then take the pan off the heat and stir with a wooden spoon until the butter and chocolate are smooth and melted. Now add the jam, sugar, salt and eggs. Stir with your wooden spoon and when all is pretty well amalgamated, beat in the flour bit by bit. Put into your prepared tin and bake for 50 minutes (I alway check from 30 minutes as my oven is a fast worker) or until a cake-tester or skewer comes our clean. Cool in the pan on a rack for 10 minutes before turning out.
And that is it. Easy. A dredging of icing sugar aways looks pretty as does a few raspberries or flowers scattered on top, but that is up to your own artistic desires.