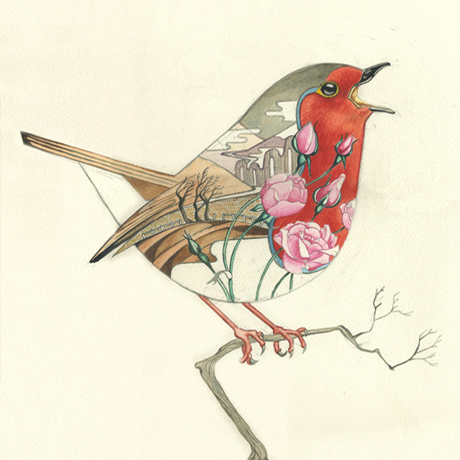 I was recently contacted by watercolour artist Daniel Mackie and today I'm featuring a selection of his floral-inspired animal prints.
Daniel started his business, called The DM Collection, about a year ago.
He's an illustrator by trade and has been practising since 1995 when he left college.
He's worked for all the major publishers and newspapers over the years. And about two years ago, he totally changed his style.
Daniel said: "I was using Photoshop and 3D modelling software but it was driving me crazy.  So I ditched it all and started doing everything by hand.
I chose to use watercolour because I had had some experience of using it when I was a lad!
Also because it is the polar opposite to using a computer to generate images...once the paint is on the paper, it acts like a stain.  
You can't undo it as you can with Photoshop. So it makes you braver and forces you to make decisions!
To cut a long story short, the new work I was producing, very much influenced by art deco, navy tattoos and Japanese prints was so different from what I was producing before, it seemed that is was better suited for cards and prints.  And in the future, lampshades and other home type products.
So I started the DM Collection at Greenwich Market in south east London a year ago.
I've just finished my first trade show (Top Drawer in London) which went brilliantly.  And I now have lots or orders to fulfil!"
Below is more of Daniel's work...
If you'd like to keep up-to-date with Daniel's news, he's on Twitter and Facebook, plus has a blog.
(Images : Daniel Mackie/The DM Collection)