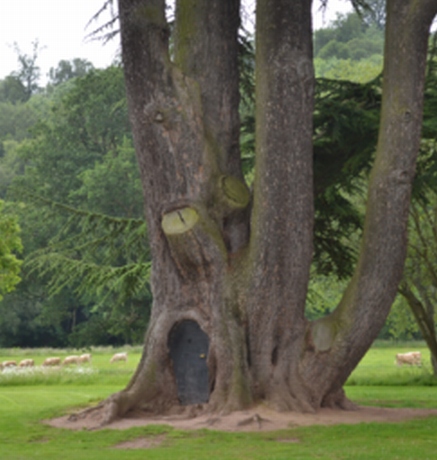 It can be hard to find a venue for a great day out with the kids, which, as a parent, you want to hang out at too. I love getting my kids out in the fresh air, and on a recent trip to Herefordshire, found the perfect place to spend a few hours together.  I got to enjoy a delicious lunch in a beautiful café overlooking the idyllic acreage surrounding a medieval castle, and there was so much for the kids to do.
We visited Hampton Court Castle. A superb place to visit with your children. The 15th century Castle is surrounded by 1000 acres of stunning parkland, pasture and woodlands with the river Lugg running alongside and predates Hampton Court Palace by some 80 years.
The Castle itself is beautiful and you can take a fascinating tour around some of the rooms with the child friendly guide. My kids got to run about in the huge ballroom and look at all the suits of armour and weaponry,  and then be the stars of the tour, when the friendly guide let them push a bookcase in the library to open a secret passage. They were delighted that they could run through the books and reappear a minute later to applause from their audience.
The castle itself is surrounded by stunning gardens, it's great to visit in Summer as we did when there's an abundance of flowers to see. The children won't mind you dragging them round all the gardens as they can get to run between all the flowers and play hide and seek.
There's a fort the children can play on and even an amazing Yew tree maze that takes a while to navigate to reveal a hidden Tower in the middle.  Beneath the tower lies a dark and spooky tunnel that leads to a beautiful sunken garden with a waterfall at the centre that they can stand underneath if they wish to get wet!
The grounds were voted top 50 best gardens in The Independent and it's easy to see why.