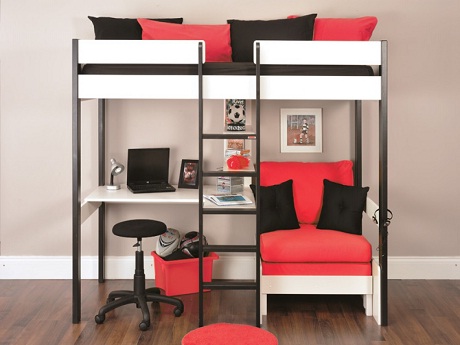 Stompa is a Norwegian company that has been around since the early 1960s that specialises in the manufacturing and development of children's beds. Their innovative furniture is popular with families and children of all age groups, and their versatile products can be extended as space allows and needs change.  This range available from FADS online includes exciting designs and colours, which can be customised to offer a unique place for your children to play, sleep and enjoy themselves.
All children love sleepovers (although there's usually more talking than sleeping going on) and the Uno 5 incorporates a space for sleeping, a space for studying and a comfy chair for guests that speedily converts into an extra bed. It's very stylish too - loft living for kids in fact.
The Uno 3 is a real space saver with its cupboards, drawers, bookshelves and pull-out desk.
The Play 4 Mid Sleeper with Tent & Den Kit is every childs fantasy bed. There are a choice of colourful Tents to go around the base and Den Kits to match the Tent which is placed around the sleeping area whilst keeping access to the Bed open to make a fantastic sitting area by day and a cosy place to snuggle up by night.
Available from FADS online.