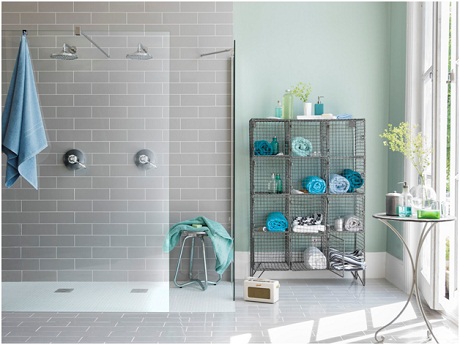 Renovating the bathroom can be a time-consuming and expensive affair, so make sure that you are going to love the finished result, by planning every detail before you commit to any one décor scheme. Study pictures of bathrooms, bathroom blogs and even trail around bathroom showrooms to gain a good understanding of exactly what is available on the market and how much of it falls within your budget.
Wet Room Advantage
Transforming your bathroom into a wet room will have the immense advantage of opening out the space, removing all divisions and constraints on the flow of the room. While fairly expensive to install, wet rooms are excellent for family members with limited mobility as they will not have to step up or down into the shower. If you plan to transform your bathroom into a wet room you can find some really affordable wet room fixtures and fittings at My Bathrooms. Waterproof paint and wallpaper is a must, as is some form of damp-proofing, to prevent unsightly and unhealthy mold growing all over the room. If your bathroom is small, paint the ceiling in a lighter shade than the rest of the room as this will help to open out the space, making the room seem taller and more generously proportioned.
Old Fashioned Charm
If you love the idea of a bathroom that oozes glamorous comfort, then opt for a large, preferably claw-footed bath tub, gold-painted taps and fittings and use soft pastel colors in the décor: baby pink, soft sky blue, gentle yellow or cream. Allow space for a large vase of fresh roses and invest in floral curtaining or wallpaper to enhance the attractive, old-fashioned ambiance of the room.
Bright and Shining Modernity
For those who are in love with smooth and sleek bathroom fittings, there are many options available for you. Choose colors that represent freshness and modernity: white porcelain and gold fittings, with perhaps a touch of strong navy or royal blue. This will create a crisp, easy to maintain bathroom decor that always looks welcoming and hygienic. There are wonderful ranges of taps and faucets to choose from, many of which will add a lovely aesthetic touch to any bathroom with delicate curves and gently rounded pipework.
Minimalist Angles
For an easy to clean, almost clinically minimalist bathroom, choose dazzling white bathroom furniture with shining chrome fittings, all put together in an easy-to-clean, futuristic style that looks like something out of a sci-fi movie! Choose unusual asymmetric faucets and invest in the latest soft-close toilet seats, automatic flush and hand-soap dispensers to complete the space-age air of your ideal bathroom. For some classic bathroom accessories you may like to check out Home Base.
Choose one of these styles or invent your own unique style by picking out the elements that appeal to you. It may take you some time and effort, but you will reap the benefit once you have your perfect, stylish bathroom ready to use and waiting for you.