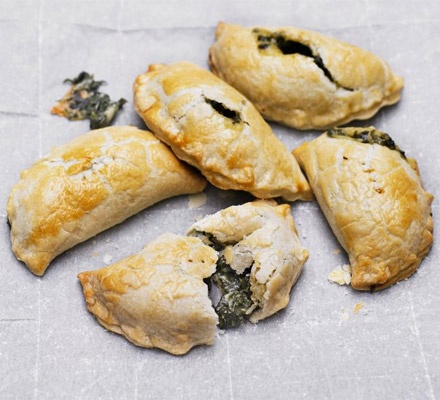 As I write this post it feels like a Friday or a Thursday at the very least. It is in fact Tuesday. It's half term and we've had a busy day of family visiting and now with the kids in bed and our day-trippers heading on their return train home, it's time to find some energy to cook dinner. It calls for something easy to cook, easy to eat and somewhat restorative. The result was a pasty supper.
I made two recipes: both taken from River Cottage Veg Everyday! by Hugh Fearnley -Whittingstall, though altered somewhat to suit the ingredients I had to hand. In the original recipes Hugh makes his own pastry, I however, used a good quality shop bought pastry. It is Tuesday evening, so I am sure he'd excuse me this. I made both Swede & Potato and Spinach & Thyme. It's really not that much work to make both while you're in a pasty making mood. Do it with a glass of chilled white winr to hand and some jazz on the radio and it becomes quite a relaxing pastime. I bake what I want to eat there and then and open freeze the leftovers, storing them in plastic freezer bags ready to cook on those evenings I don't feel inclined to knowing a pasty will hit-the-spot.
PASTY No.1: Swede and Potato Pasties.
500g frozen puff pastry, defrosted
125g potato
225g swede
75g carrot
1 small onion, grated
A handful of parsley, finely chopped
A few sprigs of thyme, leaves only, chopped
1 teaspoon vegetable bouillon powder
½ teaspoon freshly ground
black pepper
½ teaspoon sea salt
50g strong Cheddar, grated
30g butter, melted
1 egg, lightly beaten with 1 teaspoon milk, to glaze
Preheat the oven to 190°C/Gas Mark 5. For the filling, peel the potato, swede and carrot and cut into 3–4mm dice. Mix together with all the other ingredients in a bowl, adding the butter last of all to bind.
Roll out the pastry on a lightly floured surface to approximately a 3mm thickness. Using a 19cm plate as a template, cut out 4 circles; you may have to gather up the trimmings then re-roll them to get your fourth circle.
Spoon the vegetable mixture on to one half of each circle. Brush the pastry edges with a little water, fold the other half of the pastry over the filling to form a half-moon shape and crimp the edges well to seal.
Place the pasties on a baking sheet lined with baking parchment and brush with the egg glaze.
Bake for about 35–40 minutes, until the pastry is golden brown. Eat hot or cold.
PASTY No. 2: Spinach & Thyme Pasties
500g frozen puff pastry, defrosted
500g spinach, thoroughly washed and tough stalks removed
1 tbsp sunflower oil
1 large onion, finely chopped
1 clove garlic, finely chopped
200g goat's curd
Zest of 1 lemon
Few gratings nutmeg
2 tsp lemon thyme
1 egg, plus an extra beaten egg for brushing
Salt and freshly ground black pepper
Preheat the oven to 180°C/gas mark 4. Line a baking sheet with baking parchment or a non-stick liner.
For the filling, wash the spinach thoroughly, then pack it, with just the water that clings to it, into a saucepan. Cover and put over a medium heat until the spinach has wilted in its own steam. Drain in a colander. When the spinach is cool enough to handle, squeeze out as much moisture as you possibly can with your hands, then chop roughly.
Meanwhile, heat the oil in a frying pan over a medium heat and sweat the onion and garlic for about 10 minutes, until soft and translucent. Stir in the chopped spinach and leave to cool.
Tip the spinach mix into a bowl and add goat's curd, lemon zest, nutmeg, lemon thyme, egg and plenty of salt and pepper. Mash together thoroughly.
Roll out the pastry to a rectangle. Trim the edges and cut 8 squares of approximately 13 x 13cm. Put a spoon of the filling in the corner of a square of pastry and spread out to form a triangle, maintaining a border of about 1cm. Fold the pastry over the filling, to cover the filling but not to the edge. Brush the border with egg wash and fold the exposed border back over to seal further, pressing down to ensure the pasty is well sealed. Trim the corners if the pastry is excessive. Brush with more beaten egg then cut a hole in the top of each one with a small, sharp knife.
Transfer the pasties to the prepared baking sheet and bake for about 25–30 minutes or until golden brown. Eat warm or cold.
Images via: BBC Good Food and Boden